Finally a completely new glitch tech that has raised up the maximum percentage for the US version of SotN. I call it Mist-Up. Basically, all you do is gather experience points until you are 1 away from getting a level-up then get onto a ceiling with enemies in the rooms, turn to mist and summon the sword familiar to kill the enemy. Getting the level-up while in mist form will give you a glitch room!!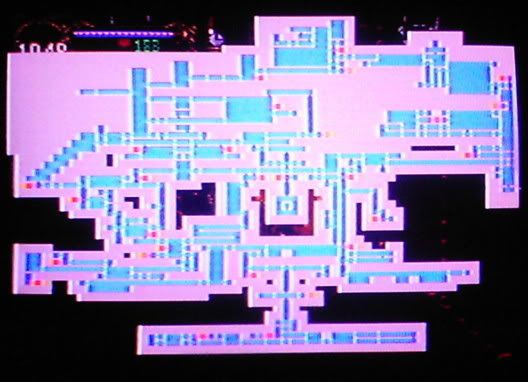 http://www.youtube.com/watch?v=azfDfdykCqA
It's been a while since the last break-through tech in SotN. Heck, it's been almost 2 years since we got any new rooms, but this is the big one! 43 ceiling rooms that we didn't have before! The map is almost completely surrounded by white rooms now. There's just one problem: Many of you will not be able to do this new glitch with your current glitch files--and probably none of you will be able to get all 43 rooms with any of your files...I know this sounds crazy, but the only way to get all 43 rooms is to be at level 56 or lower!!
Since gaining levels after level 65 is extremely time consuming, I recommend starting a low-kill game. It doesn't have to be 1-beat or even 3-beat. I recommend using a level 16 game and its very simple, you can get bat, mist, 2 HRs and a duplicator at level 16 without any crazy glitches. Just start with 1 HR; make your way to Slogra & Gaibon without killing anything--then kill them, and Doppleganger 10, werewolf, minotaur, and lesser demon; without killing enemies on the way to each boss. Then you can do the Halfblood tech on hippogryph and the wolf-run richter-skip glitch (both easy) to get to the Inverted castle. Halfblood Medusa (med. difficulty) and make your way to the the 2nd HR--done!!
It took me a little over 35 hours to get all the rooms.
Pale-Dim did a lot of testing of this glitch for me and here's his advice:
1- You need to start a new game with low levels. Once you have a 200.6% game with low levels then make a seperate copy of it in case we need it in the future. I suggest a file with no inf s4r you should save also.
2- If you are not doing inf s4r 1 map flip game then do remember that you will have extra rooms to open with this tech that s4r was able to open. I believe I opened 8 more with this tech on my personal file.
3- Some rooms you may need to drag enemies with you in order to get them into the proper screen. be sure to use regular mist until you are ready to kill them poison may kill them too soon. if you are mist and need to switch to poison mist you need to turn on the relic gas cloud then go from mist to bat to mist again since it wont override your current mist.
4- The current max go as such
4008 Rooms 425.4% with inf s4r
425.4% map: